Most of us are aware of the importance of sleep, yet we hardly get the required number of z's with our hectic schedules. Findings show that 7.5 to 8.5 hours is essential to circumvent feelings associated with sleep deprivation. Most people, however, seem to be getting a lot less sleep than in the past, which may negatively impact their personal and professional life. The effects of sleep deprivation include an overreliance on caffeine and cognitive problems in the long-term. Research has shown that poor sleepers tend to be depressed, disoriented, and prone to obesity and diseases.
Sleep is critical for functioning and wellbeing, but if you are an athlete or if you have an intense workout routine, you need to be even more vigilant about your sleep patterns. You will have to ensure that your sleep is optimal in terms of both quality and quantity. The National Federation of Professional Trainers (NFPT) recommends more sleep and rest when your workout capacity increases by more than two to three percent. This is to help the process of recovery in order to avoid injury and optimise training performance.
Wearing the Right Sleepwear
Age, genes and your environment play a part in determining how much of sleep you need. The first two might be beyond your control, but you can try to modify your surroundings to help you create the optimal environment for sleep. While you might have figured out how to revamp your bedroom and all, one factor that we tend to take for granted is what we wear to sleep. The correct sleepwear fosters proper body temperature and aids with post-workout recovery.
The perennial question for those embarking on a gym routine and regular fitness enthusiasts has often been: is sleeping in workout gear a good idea? This holds particularly true for those who workout first thing in the morning, that is, the time of the day you are still groggy and probably need to get together a million things. Wearing your workout gear to sleep might, therefore, seem appealing if it means you can squeeze in those extra minutes of snoozing. Moreover, for some, getting ready the night before might already seem like half the battle won. Mentally, it prepares you for your workout in advance thus leaving little room for excuses. You have already committed and are accountable for ensuring you complete a training session.
Before you go donning your running shorts to sleep, however, consider three things: For starters, putting on a clean pair of training attire to bed is in itself quite strange. Two, although you have just been wearing them for only seven to eight hours, think about the germs present in your bed that you might be carrying with you all through your workout. Three, sleeping in a breathable fabric that regulates your temperature and keeps your body cool while you sleep is essential and not all workout gear is designed with such material. If you wear fabric that compromises how well you're sleeping, it might, in turn, impact your exercise performance. Instead, think about getting your gear ready the night before to save some time in the morning.
Activewear to Sleep
However, if you still insist on putting on your workout gear to sleep, here are a few great activewear options that work well as breathable, comfy pyjamas too! If you want the best workout gear in the market right now, then check out the new Ryderwear UK gear.
Tops 
Cotton On Training Tank Top in Green Tea Marie
Now you can focus on your sleep and your fitness with this Training Tank Top. An active top with a loose fit, extra length with scooped hem front and back and moisture-wicking fabric treatment keeps you cool and dry, taking you from bed to your morning run in no time.

Bohemian Stripe Sports Bra by Lorna Jane
How about a sports bra to sleep? Engineered for maximum coverage and support, this sports bra will keep you in place during intense activities. Plus, the four-way stretch allows you to move around comfortably in your sleep. Designed with double elastic straps and under bust support so there is no movement. Its moisture wicking and breathable material is great for both sleep and working out. The clasp through the back allows for a completely customised fit.

Rockwear Galaxy Front Print Tee in Grey
Made with 100% cotton, a soft touch breathable fabric and relaxed fit, this one is airy enough for bed yet appropriate enough for you to hit the yoga studio in. in fact, with a splash of print, the Galaxy Tee will be a go to for all your daily needs, even for brunch with the girls.

Running Bare Cosmic Long Sleeve Women's Training T-shirt in Black
This Running Bare Cosmic Long Sleeve women's training t-shirt is a star in your sleep and workout wardrobe, featuring feather-light performance fabric to tackle the toughest sweat sesh. It sweeps moisture away from your skin to keep you fresh, breezy and never sticky with sweat. The long sleeves are ideal for tackling the morning chill with cosy vibes. With an on-trend box shape and breathable fabric, this beauty transitions seamlessly from bed to intense workouts to café catch ups without skipping a beat.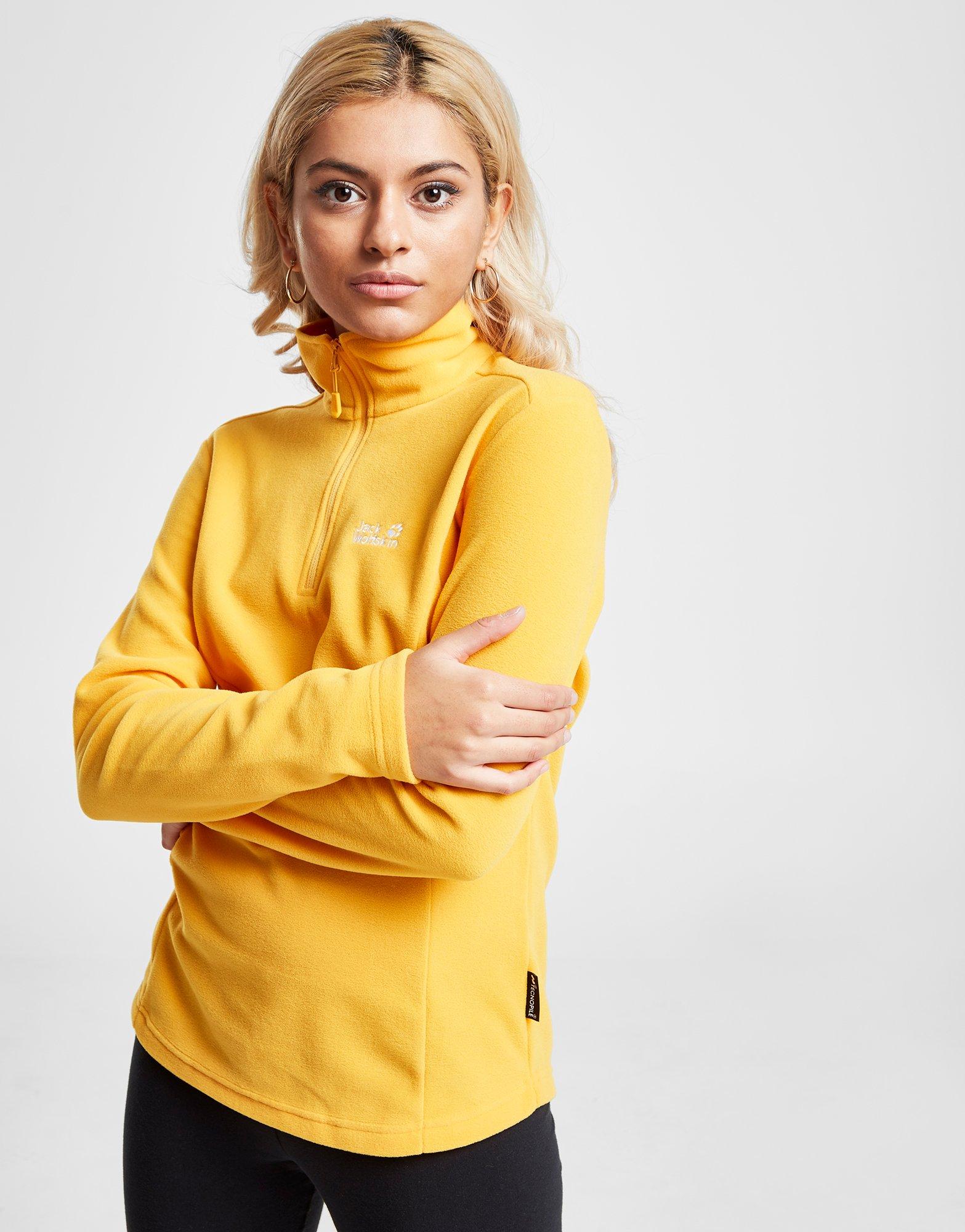 Jack Wolfskin Gecko Fleece 1/4 Zip Sweatshirt in Yellow
Need to be warm and cuddly in sleep? Then this women's Gecko Fleece 1/4 Zip Sweatshirt from Jack Wolfskin keeps you covered. In a pullover design, this sweatshirt is made from a durable poly fleece fabric for warm and cosy wear – perfect for those chilly nights and dawns. In a bold yellow colour, the 1/4 zip and high collar gives you coverage for the cold and white branding embroidered to the chest ensures a contrast finish. (Psst…don't worry if yellow is not your colour as it also comes in Red and Cream).
Bottoms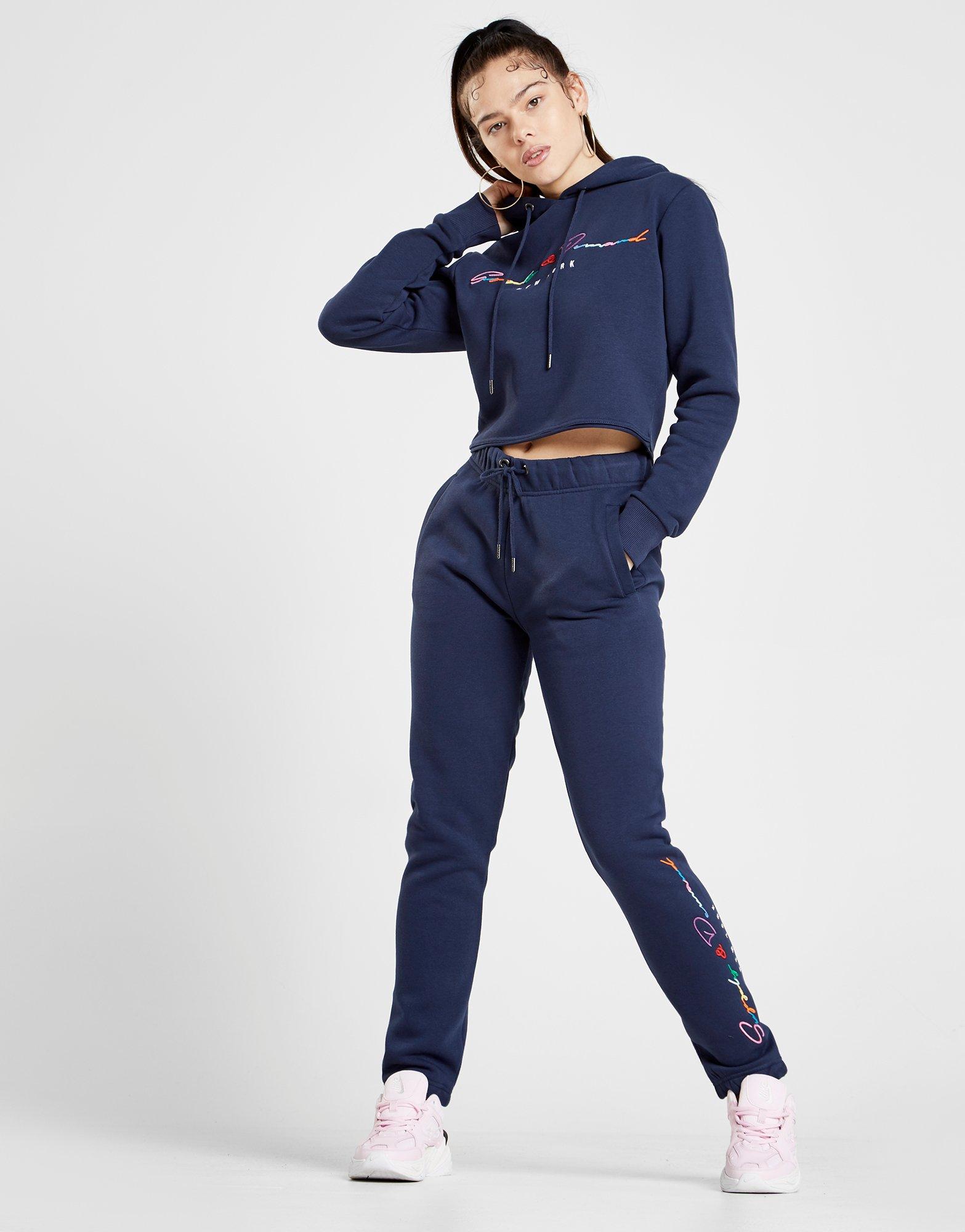 Supply & Demand Rainbow Logo Joggers
Perfect for training or weekend lounging, these sweatpants also work as cosy pyjama bottoms. The rainbow print adds a pop of colour to your outfits. Made from cosy cotton fleece for comfort, these essentials come in a navy colour and have an adjustable waistband for a custom fit. They are finished with multi-coloured Script branding printed to the leg for a bold finish.
New Balance Women's Printed High Rise Transform Crop 2.0 Leggings
Distinguished by its versatility, this Printed High Rise Transform Crop 2.0 is a go-to crop you'll want to keep in your drawer year-round. From yoga to high-intensity training, these tights support your core with a high-rise contour waistband with power mesh for breathability, which makes ideal to sleep in as well. The cute cropped fit silhouette is cut from stretchy dry fabric that wicks sweat away while a fresh anti-microbial coating resists odours so you can stay confident throughout your workout. We also love the size range – starting from XS till XL!

K-DEER Sneaker Length Yoga Leggings in Alexis Stripe
If you need a warmer pair of leggings for those chilly evenings and love bold gym outfits, K-DEER is perfect for fitness, yoga, running, cycling, barre, paddle boarding and any type of sweaty activity. The high waisted gives a flattering waistline without a muffin top fit. It is luxuriously soft and comfortable compression that smoothes and elongates. The original flat front seam is a superior, engineered design that avoids uncomfortable female fit issues. It can be worn under the ankle or above depending on preference and its innovative 4-way spandex/nylon stretch fabric always maintains shape. Rapid moisture wicking technology ensures a cool & dry, all day wear, and fear not, the extreme vibrant colours never fade with unlimited wear. It also goes up to XXXL, which the plus sized ladies can cheer about.

K-DEER 3 Pocket Shorts in Solid Black
The Short-Shorts appeals to the cross trainer in all of us and is also suitable for those who find leggings to warm when sleeping. These beauties are never short on style. Move comfortably both in your session and while sleeping in this smooth, no dig waistband. Original K-DEER flat front design avoids uncomfortable female fit issues. The snug fit of the K-DEER short shorts means you sleep the whole night then run the whole race before you realise you are still wearing pants.
If getting a good night's sleep is your woe, check out some useful tips on getting the snooze on here.
---
Photo Credit: Cotton On, JD Sports, K-DEER, Lorna Jane, Pexels, Rockwear and Sportitude 
Please follow and like us: