'Tis the season to be giving and the Singapore Sports Hub is turning it into a celebration with family-friendly activities as well as charity runs so that participants can play and give!
Held at the OCBC Square, the two-day event is a jolly time for the community to be entertained, engaged and to show support for a good cause. There will be a series of activities for the family including charity runs, carnival rides, games, inflatable playground, fitness workouts, sports try-outs, film screenings, a festive bazaar as well as stage performances. Families and young ones who are looking for Instagram-able moments will delight in the photo-worthy visual treats during the Sports Hub Community Play Day on 1 and 2 December 2018 as there will be Christmas trees lit with dazzling neon glow along the picturesque Kallang Basin.
Guest-of-Honour Ms Sim Ann, Senior Minister of State for Ministry of Culture, Community and Youth will grace the event on 1 December for a tour of the different festive booths, and to witness stage performing acts such as Grandma Mary and Band – the 82-year-old lead guitarist is renowned for performing at NDP 2017 – and OnWheels Dance Group, a wheelchair dance group. Grandma Mary picked up the guitar at 60 years of age and has gone on to launch her own album, while the OnWheels Dance Group has entertained audiences with its take on moves popularised by Michael Jackson.
Be part of the two charity runs held at Sports Hub Community Play Day for a good cause on two consecutive days. The first is the B60 Charity Run on 1 December and the Santa Run for Wishes on 2 December. Participants can take part in either or both the B60 Charity Run organised by the Warriors Running Club in support of Care Community Services Society (CCSS) and the Santa Run for Wishes benefiting the Make-A-Wish Foundation® (Singapore) – a charity supporting children with life-threatening conditions. Fashion for a Social Cause Runway is an inclusive runway show featuring models with special needs and disabilities who are advocating for good causes. Their goal is to make fashion accessible for everyone.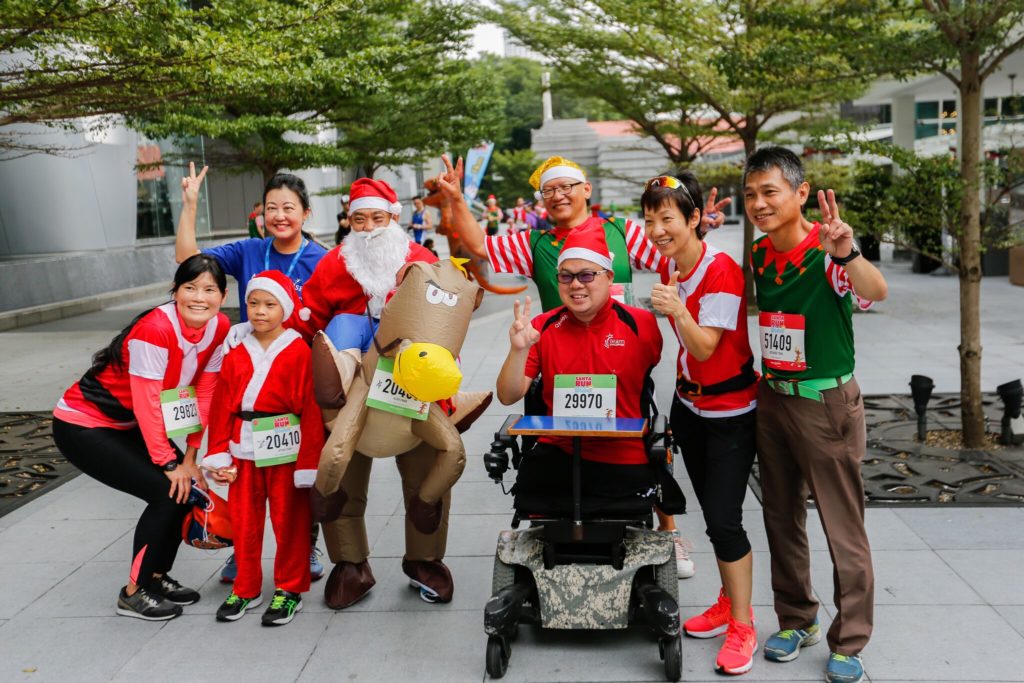 Last year's Santa Run for Wishes
Tune up your festive-meter throughout the day as visitors to the Hub will be entertained by activities such as sports try-outs that includes archery tag, Nerf combat, touch rugby and kin ball; mass fitness workouts such as Fitness marathon by Giordano G-motion; carnival and arcade games; a festive bazaar and the sale of handmade crafts. Film buffs can enjoy the screenings of short films by local filmmakers – 15 Shorts is a collection of films recounting true stories of giving by exploring topics such as poverty, isolation experienced by the elderly, and inclusive friendship.
Ms Christine Lau, Director, Sports and Community Programming, Singapore Sports Hub, said, "Our vision for the Singapore Sports Hub is that of a vibrant destination where people from all walks of life can come closer together through shared lifestyle and sporting experiences. With Christmas approaching, we hope that visitors to the Hub will not only participate in our robust activities but also show care for others, including the less privileged, by supporting charitable causes at our year-end Sports Hub Community Play Day."
In conjunction with the Giving Week national movement, there will be onsite donation drives conducted by The Salvation Army.  Giving Week is a national movement that encourages everyone to give back. From 27 November to 5 December 2018, businesses, communities, people and non-profits will come together to celebrate the spirit of giving. Every bit count towards building our #CityOfGood.
The Sports Hub Community Play Day is a quarterly community engagement initiative aimed at bringing the community together and encouraging a more active lifestyle through sports and recreational activities.
For more information on the Singapore Sports Hub Season of Giving, please visit  www.sportshub.com.sg/seasonofgiving. For more information on the Sports Hub Community Play Day, please visit www.sportshub.com.sg/CommunityPlayDay.
If you liked this article, please support our book project "Building Body Confidence" by pledging an amount here. Every dollar goes into the publishing and distribution of the book and you will get a copy of it once it does get published! 
---
Photos: Singapore Sports Hub
Please follow and like us: